This time, however, in addition to regular maintenance, an extensive reconstruction of the ship took place in the dry dock.
Among other things, almost the entire upper upper deck was rebuilt. The wiring was completely replaced throughout the ship.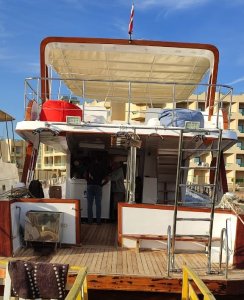 All this for your greater comfort. Carved openings for storing oxygen tanks have been added to the boat. There is also space for storing diving equipment, hangers for hanging neoprenes, a shower and a tub for rinsing masks.
The lounge with seating was also renovated. where lunch is served and theory is taught during courses, suitable for sitting in winter or in very windy weather.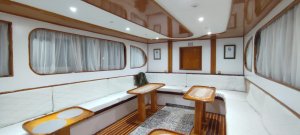 There is also a bar on the lower deck where you can prepare coffee or tea and a container of cold drinking water. There is also a kitchen and a toilet with a shower.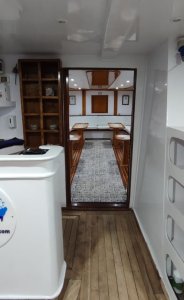 On the upper deck, there is a seating area. an area for preparing coffee and tea, as well as drinking water. There is also plenty of space for sunbathing with comfortable mattresses and added beanbags for pleasant moments with amazing sea views.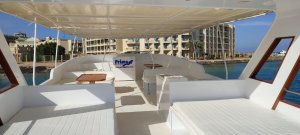 This beauty is now more ready than ever for trips, private cruises, family celebrations or diving events.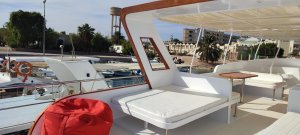 The capacity of the ship is still 30 people, but with much more space and comfort.